Julie
Bronze Feedback Medal for All Time! 149 Feedbacks
Recycle and reuse those empty plastic spice bottles and deli food containers to create candy holders for your snowman themed Christmas village. Add all sorts of candies to each one for both visual holiday enjoyment and tasteful pleasure. I make these and sit them all about my snowy Christmas village
I have displayed at knee level for the kids to enjoy and reach for each one. They like to open and be treated to a surprise candy like miniature M&Ms, gum drops, chocolate covered raisins, candy mints, etc. The choices for filling them are endless so be creative and watch them enjoy opening up the snowman's top hat to see what yummy candy is inside.
Use different shapes and heights of plastic containers to create visual interest to your village. Place them on the lower parts like the table or on the house roofs, etc. When the kids see the snowman they know to open them up and have a candy treat! Happy Holidays!
Approximate Time: 20 minutes or less on each container depending on the size to paint.
Supplies:
Empty used plastic containers like spice bottles, deli food containers, old Tupperware tubs, small mayonnaise jars, anything with a top lid for the snowman's top hat.
Acrylic paints in colors of white, black, orange for the carrot nose, and pink for the blushed cheeks.
Paint brushes with tiny ends to reach small crevasses, like a liner brush or small craft paint brushes and a stencil brush or an old tooth brush to pounce on the white paint for the snowman's body
Candies of lots of choices to fill them when finished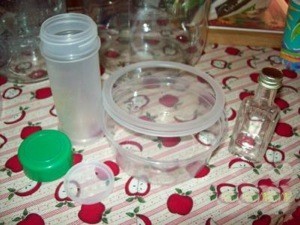 Instructions:
This is such a simple yet rewarding Christmas craft to display and enjoy both to look at and eat a candy treat from which the kids love to explore with by opening the snowman's top hats to see what candies they will find inside.
Save all those plastic containers mentioned above (I use plastic for safety for kids) but you could use glass if you prefer.
Paint the containers white using craft acrylic paint simply by pouncing that color on with a stencil brush or an old tooth brush so you have a scruffy painted texture like a snowman is, verses flat surface.
While that part of your container is drying paint the top of the container with black paint (this will be his top hat).

After both are dry then you paint on simple face expressions of his eyes, nose, mouth and pink blushed cheeks using your other colors of pink, and orange by using a thin liner brush.

After they are all dry, fill them with candies.
Sit them all about your snowy village, which can simply be polyfill batting spread out onto a table. Place the snowmen all about it or add things of interest as I did like my wooden cabin my dad made me that I display each year to remind me of him, or tiny stuffed animals that can create you a village for your snowmen to be on!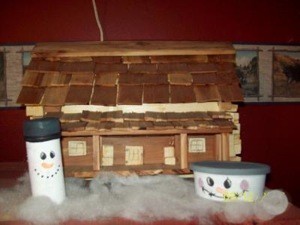 By Julie from TN