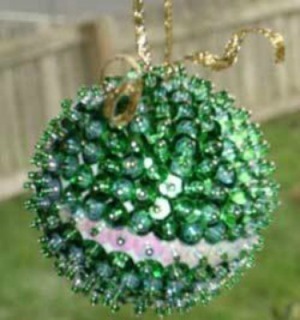 Don't throw away those old satin covered Styrofoam Christmas balls. They can be recycled into beautiful ornaments. If you happen to find some old ones at a thrift store, make sure they are Styrofoam. You can either leave the satin on or remove it and use the plain white Styrofoam ball.
You will need:
various sizes of Styrofoam balls (if you start small, you can finish them a lot faster)
large box of medium length straight pins
bugle beads in your color preference
E beads in your color preference
seed beads in your color preference
large sequins in your color preference
Thread a sequin, an E bead, a bugle bead, and then a seed bead onto a straight pin and stick it into the Styrofoam ball. Keep covering the ball until it is totally covered. (You can use the old hanger to rehang the finished ornament.) Use your imagination with different sized beads and make each ornament your own creation.
My sister and I made dozens of these one year and had the best time. :)
By CDC from FL
Read More

Comments
I want to know what kind of Christmas ornaments I can make out of a styrofoam ball for my school.

Thanks,
Victoria from Big Stone Gap

Answers
By Michele (Guest Post)
November 30, 2006
1

found this helpful
You can use joint compound on them and make 'snowballs'. You can decouapge tissue paper on to them and use as an ornament...any color or mulitiple colors. You can go to google.com and type in 'styrofoam ball ornaments' and get lots of hits.
Good luck.
By Mairmie (Guest Post)
December 1, 2006
0

found this helpful
Take small(1 or 2") pieces of randomly cut fabric scraps. With the sharp end of a fingernail file; go around the fabric;gently pushing it into the styrofoam. Put another piece butted against the first. Continue until the ball is covered. Place a loop of ribbon (attached with a straightpin) for hanging. Remember to cut or tear the fabric in random size/shape pieces. Using reds, greens and also scraps of Christmas prints makes these "Patchwork Christmas ornaments " very pretty. Bits of velvel,lace, or brocade makes very elegant ornaments done this way.
By cas (Guest Post)
December 1, 2006
0

found this helpful
how about celophane in bright colors and some ribbon? wrap around and make them look like giant pieces of candy
By (Guest Post)
December 2, 2006
0

found this helpful
My Mom and friends and I also made the patchwork and decoupage ornaments mentioned above and I still have them after all these years and treasure them. Try em.
You can also poke two tiny holes in an egg and blow out the yolk and use them the same way. (have to wash them out and do this before the kids for safety).
Another cute idea for the styrofoam is to make Mr. and Mrs. Santa Claus faces using red felt and cotton . YOu can paint or draw or decoupage the facial features and add wire rim glasses. Or, you could stack them and make snowmen and women. Add popsicle sticks to the bottom for skis. Cloth for scarves. Dip in white glitter for that frosty look. etc.
By Morgan (Guest Post)
December 5, 2006
0

found this helpful
ive got one i made a few years ago using mini marshmallows, red sequins and straight pins. put a sequin on a straight pin, push it through the end of a marshmallow, and stick it in your styrofoam. once you cover it completely, you can use another pin to attach some ribbon or string to hang it. they last for much longer then you'd expect too.
December 7, 2006
0

found this helpful
I have one that uses pins thru little plastic beads. and on the top is a "scene" glued on, with plastic animals and trees.
I would just use the beads* in different colors making designs - make a ring, 2-3 beads wide, around the center in 1 color, use another color next to it on both top and bottom. Use the first color, then the second, alternating til the ball is covered.
Make bands in a zigzag /\/\/\/\ as with the rings
Place circles [like polka dots] around the ball, then fill in with a background color.
Make whatever design you want, and fill in the background.
You can make the colors, and designs, you want, and they'll last for years.
You can cover the ball with sequins and either large beads in place of the marshmallows, or small beads in the center of the sequin, Either in the same color or a different color.
*Use sequins to make your patterns, in place of the beads, it will be cheaper.
KayD
By Lulu (Guest Post)
December 7, 2007
0

found this helpful
Randomly wrap with ribbon like an elastic band ball until it is covered and tie a big bow at the top.
By Rachel (Guest Post)
November 28, 2008
0

found this helpful
This is my favorite hobby. I have containers of sequins and beads that are organized by color and size. I take old costume jewelry apart, and use the large jewels, etc. for the "center" of the ornament. I also find everyday "junk", spray paint it a vibrant color, and tack it on. (such as old keys). I hope this helped!
By SEWINGLANE (Guest Post)
January 23, 2009
0

found this helpful
I would like to make styofoam ornament usiing squares of folded fabric. Made them many years ago with my daughter's girlscout troop. Would now like to teach my granddaughter. Does anyone have the instructions. Thanks
Answer

this Question
Does anyone have instructions for a Christmas ornament made with a Styrofoam ball, folded material, and cross stitching?

Lynda from Dayton, OH

Answers
By Belle (Guest Post)
January 30, 2008
0

found this helpful
Check out HGTV.com. Click on Message Boards, then on Crafts, and Quilting Needlework or Holiday crafts. The instructions are there.
By Barbara Krauter (Guest Post)
July 13, 2008
0

found this helpful
I used a book called Folded Star Ornaments by Carmella Troisi-Hoerr It was published by the American School of Needlework.
By Carmella Troisi-Hoerr (Guest Post)
October 20, 2008
0

found this helpful
Hi, ladies. I'm the author of the Folderd Star / Cross Stitch book. American School of Needlework published it a few years back but it wasn't a huge seller so they did one printing and the book is now out of print. I've gotten notes from folks about the book & if you've got any question, please do get in touch! hchltd.com
March 17, 2009
0

found this helpful
Does anybody have the graph patterns? Or the book they would be interested in selling?
Answer

this Question
I am wanting to make a Christmas ornament by using left over scrapbook paper scraps (punched flower) attached to a Styrofoam ball. What is the best way to make it stick, using what glue or even mod podge? I have used a pin in the middle, but the edges stick up. Please advise.
Answers
January 9, 2019
0

found this helpful
Try Aleene's fabric glue.
January 10, 2019
0

found this helpful
I have had good results in all sorts of applications with Acrylic Matte Medium. I imagine that a hot glue gun would work as well.
styrofoam is tricky because certain glues will sort of melt it off, for instance superglue is not great
try the matte medium, especially it can be brushed over the ornament after it's all put on and it will give it a layer
January 11, 2019
0

found this helpful
Some say you can use a glue gun but it is recommended to use on very low heat.
Keep in mind that just regular glues may not last very long and this is really a type of decoupage that you might want to keep using year after year so maybe it would be better to use a specialty glue/paste.
There are several sites that offer suggestions for attaching paper to Styrofoam.
www.ehow.com/how_12109277_decoupage-paper-styrofoam...
lifehacker.com/.../this-glue-chart-guides-you-through...
Here is a site that shows how to use liquid starch and Mod Podge.
Here is a cautionary note:
"do not use superglue/krazy glue/cyanoacrylate. It reacts with Styrofoam to create a nasty little cloud of cyanide vapor"
Answer

this Question
Decoupage is a craft that was quite popular in Victorian times. This art form involves glueing pieces of paper to many kinds of objects creating beautiful, whimsical, or otherwise unique boxes, ornaments, bottles, and more. Learn how to make a decoupaged Styrofoam ornament in this page.