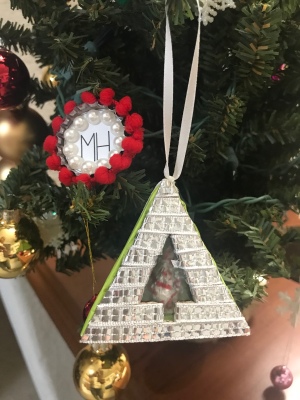 This was my first trial run to make Christmas favors for my niece's classmates. I would recommend making the triangles at least 3 inches at the base or longer and taller to accommodate more candies.
My 2.5 inch triangle fit only 2-3 Hershey Kisses and it was a tight squeeze. If I had put other candy options, like peppermint I would probably be able to fit 5 or 6. It varies depending on the candy so you may want to keep that in mind (because I did not think about that until I was finished).
This project was made solely with cardboard I had at home from online orders, scrap paper, sticker ribbon, and ribbon, plus essentials like hot glue and a glue stick. They are very easy to make and perfect for Christmas favors to give to friends, family, classmates, co-workers, and kids.