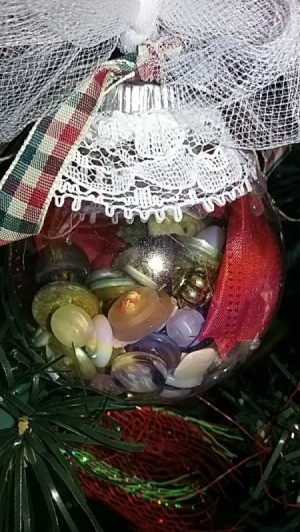 I used vintage buttons, glitter, salt, feathers, ribbons and even popped popcorn popped to fill plastic ornaments. The ornament top is sealed with hot glue. The ornament is decorated with scraps of fabric, bows, ribbons, and stickers of doves, small Christmas ornaments, etc.
I make my children an ornament with some of their small childhood pictures, or other childhood memory items that they could hang on their tree within the plastic ornament. It is very enjoyable to look for items that could be put into a plastic ornament that would make one happy at the Christmas season when it is put upon the Christmas tree.
Total Time: 1 hour
Yield: 1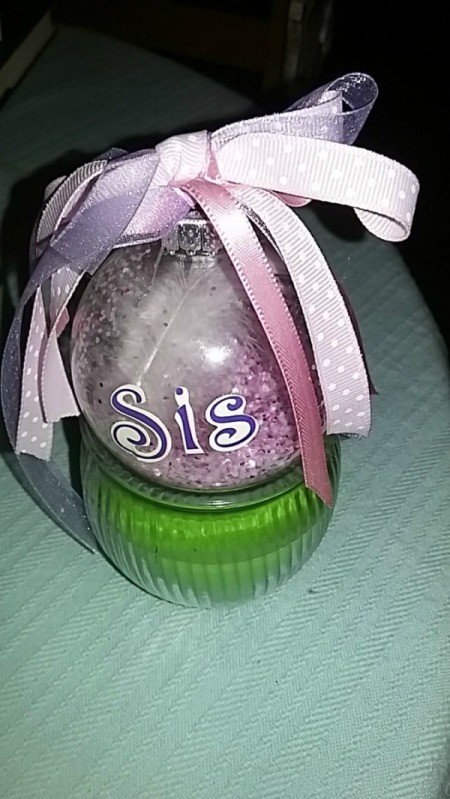 Supplies:
plastic ornament
hot glue gun
scraps of lace
artificial feathers
popcorn kernels
assorted ribbon
stick on letters
small flat ornaments or costume jewelry pieces
Your creative imagination!
Steps:
Create an idea for the ornament.
Use a small funnel to insert salt or glitter
Using hot glue gun, glue accessories onto filled ornament, seal top.
Add ribbon to add color, allow hot glue to harden.
Attach ornament holder and hang on Christmas tree.
Making a Popcorn Filled Ornament:
Put a thin layer of popcorn kernels inside the ornament.
Place in your microwave at 50% power.
Microwave for 30 seconds at a time until the popcorn is popped. It will be hot so use an oven mitt to remove it from the microwave.
Allow it to cool and then seal the top with hot glue and decorate accordingly.
Note: The popcorn ornament should be stored in the freezer after the Christmas season is over to prevent mold from setting in the ornament. I usually wrap the ornament either in tissue paper or put it in a ziplock bag and store in my freezer.
Enjoy making an ornament, especially if it has special meaning to you. For example if it is filled with items from your family or a memory and it will become a treasure to you.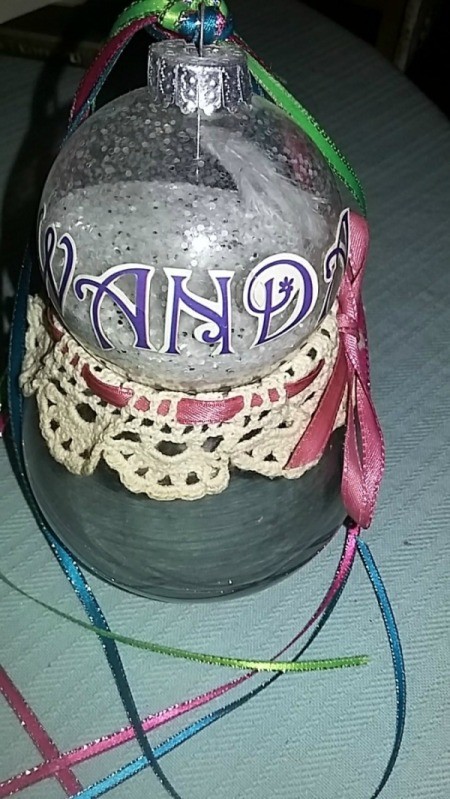 Add your voice! Click below to comment. ThriftyFun is powered by your wisdom!
Add your voice! Click below to comment. ThriftyFun is powered by your wisdom!