Making a Christmas Flower Crown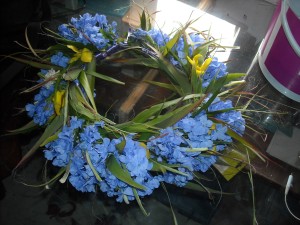 This Tahitian craft uses banana leaves, fresh flowers, and plant leaves to make a beautiful crown traditionally worn there for Christmas. If you don't have the fresh plants used here, substitute ribbon for the base and use faux flowers. The steps to complete this project can be found below.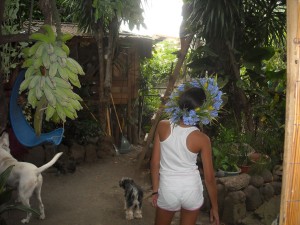 Here in Tahiti it is a tradition to make a beautiful crown to wear on your head for Christmas. Each year at this time the flowers are blooming everywhere and it is so beautiful. We go in our garden and pick a basket full of flowers and a few leaves to make a crown to wear on Christmas.
These crowns are easy to make and if you don't have fresh flowers you can easily make your holiday crown out of artificial flowers. My goddaughter came over for the weekend to see me and she wanted to make a holiday crown for school on Monday. The children wear crowns all year round, but Monday is a special day at her school and all the children will wear crowns to school this day.
Total Time: 1 hour
Yield: 1 crown
Source: My Tahitian sister taught me how to make crowns.
Supplies:
flowers
leaves
scissors
ribbon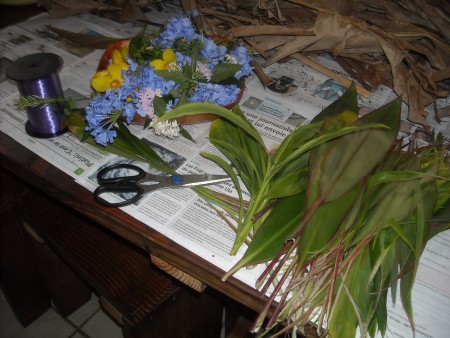 Steps:
Start off by making the band that fits around your head. You can do this by breading some banana leaves together, using some leaves to make your base, or even braiding some ribbon together. Just make it the size for your head and not larger.
Attach this together with a piece of ribbon.
Prepare all your flowers and leaves before you start. I normally put mine in colors to make it easier to make the crown.
Hold the base in your hand and start off by taking a few flowers and laying them on the line of the base. The flowers will be off to the left to start off with.
Wrap the ribbon around the flowers to secure them to the base.
Add more flowers right next to the ones you have already added, just move down a bit on the base. Wrap the ribbon around the flowers.
Continue adding flowers to the base of the crown. When you get a little ways around the base you can add a few of your cut leaves to the base.
Normally you will fold the leaves in half and place the leaf right under the flower. You want the leaves in the middle of the base so that you can see the leaf sticking out to the right and left side of the crown.
Continue adding flowers and leaves to the base of the crown until you reach the end. Now cut off the ribbon and tie it off around the base of the crown. Put the crown on and enjoy. These are so beautiful and are so much fun to make. If you use artificial flowers you can use your crown as a decoration around your home.
Published by ThriftyFun.
© 1997-2020 by Cumuli, Inc. All Rights Reserved.
https://www.myfrugalchristmas.com/Making-a-Christmas-Flower-Crown.html