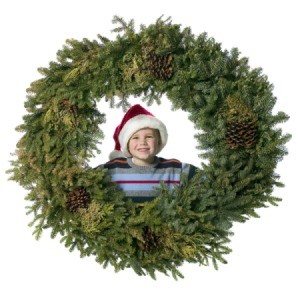 Does anyone have instructions for making a GIANT wreath for Christmas? The one I want is large enough to step through. I saw one mounted on a porch at the front just above the steps and was 6 or 7 feet tall. I think it was made of plywood. It had greenery attached (probably stapled) to it and a large bow on top. White lights were put inside the greenery and it was very attractive. Hope someone can help.
Many thanks!
LaVerne from Midland, GA
Answers

June 25, 2006
0

found this helpful
Best Answer
Maybe you could use a big hula hoop and wire greenery around it. Then wrap the christmas lights around the whole thing.
They sell hula hoops at the dollar store, if you have a pine tree you could trim branches from it, and the lights are fairly inexpensive too especially when you get them after christmas. You might be able to use old coat hangers for the wire or buy it at the hardware store.
You could do the whole wreath for a few dollars.

June 27, 2006
0

found this helpful
Best Answer
I'm originally from the cold country of Maine and I always made fresh balsam wreaths every year. Some of them I have made have been to put on peoples' barns and they were double sided wreaths, meaning the boughs were on both sides making the wreath thicker.
I used wire that was about 1/2" thick and wound the wire around several times to make it stable to with hold the weight. I also took wire as thick as a coat hanger and wound that around, it was really sturdy.
Then I put clumps of the balsam around, wiring it with 18 gauge wire that, you can get the wire at hobby lobby or any craft store.
Just put a clump on front first then flip the ring and do the same to the back and continue this way till finished. They are beautiful and smell so good.

June 28, 2006
0

found this helpful
Best Answer
An old bicycle wheel makes a great, sturdy wreath frame. You can leave the spokes in and weave ribbon through them to the height you wish, or simply cut them off with a bolt cutter.
By Mark (Guest Post)
December 22, 2007
0

found this helpful
Best Answer
I made four large wreaths, the largest being 6' across, but they could be up to 8' using my method. It takes some basic woodworking skills, but here are the basics:
I constructed them using 3/4" plywood, since mine needed to be rigid to hang on my house, and not sag.
A 4' ring can be cut from a single sheet of plywood, but if you overlap and reinforce sheets together, you can make it up to 8'.
Layout the circles with a homade compass. I cut it out with a jigsaw, making the wreath band about 10" wide.
To make it weather resistant, I caulked all the cut edges of the plywood, then primed, and painted with dark green paint. This seems extreme, but moisture will cause the plywood to warp if not sealed.
A more expensive but indestructable material called "Koma" is available at some lumber suppliers. It is available in sheets or boards, and is a plastic, paintable, waterproof material.
I then stapled on the synthetic garland, and attached masses of lights, and a large bow.
It's very impressive, especially glowing at night. It's a heavy project, using all the wood.
If you wanted it to be self-standing on your porch, two support legs could be attached with hinges to the back, similar to an easel. (perhaps 2x4's)
Have fun, wreaths are great.
By barfydoogin (Guest Post)
June 27, 2006
0

found this helpful
Hobby Lobby sells the really big wreaths [ They should be putting them out in July] they are about 5 or 6 feet around they are about $50.00
By Kelly (Guest Post)
June 29, 2006
0

found this helpful
Maybe a tire swing, with fairy lights strung around it. Then attach a big festive bow and stick some greenery (real or fake) in through the wires for the lights.
By (Guest Post)
July 1, 2006
0

found this helpful
Well, I guess this wouldn't be big enough to step through, but when we lived on the farm, we had Christmas wreaths on our deck. I bought cheap green fabric, tore it in strips and wrapped it around an old car tire, then cut a wider strip of red fabric for a huge bow and then wrapped a string of miniature Christmas lights around it.
It was BIG, attractive, and best of all, VERY cheap!!
By Ryan (Guest Post)
November 24, 2008
0

found this helpful
This year I made a 6 ft across wreath for Christmas. I needed it to be light enough to hang on my 3rd floor balcony. Since wood and metal were far to heavy to use as a frame, I took 2 heavy duty foam pipe insulators and cut them to size. I then ran heavy gauge wire through the middles and bent them to form a circle and twisted the wire together where the ends met to make them stay together. Then I used picture hanging wire to secure on pre-lit artificial garland that I had doubled up to make thicker (and have a more impressive light display!). I then attached large scale SHATTERPROOF ornaments and bows for a festive holiday look. One GIANT bow flanks the bottom. It was very very easy and only took about 30 minutes to make, plus time for the glue to dry and set.
Have fun!
Answer

this Question