Need to change out your tired door wreath? Don't have time to get out the craft wire and hot glue? Love to be creative in a short timeframe? This craft is for you. I often make these as gifts.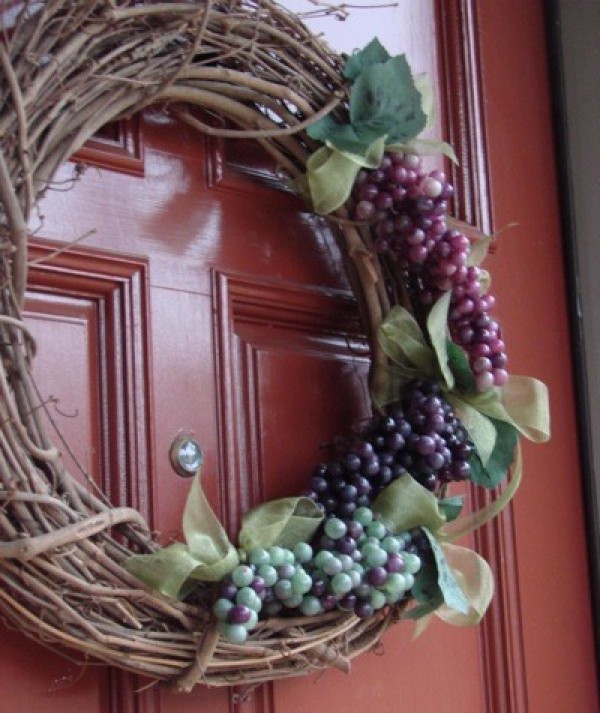 Approximate Time: 10 minutes
Supplies:
one grapevine wreath form, stripped
plastic greenery, flower picks, plastic grapes, etc.
organza or other easy-to-tie ribbons
Instructions:
Prepare Your Wreath:
If your wreath still has old decorations on it, clip or pull them off. If the stripped wreath is dirty, take it outside and spray it clean then hang outside to dry completely before redecorating. Lay your wreath out flat and check for stray strands and clip.
Note: If you just want to buy a new wreath that's fine, you will be recycling it as you redecorate it later. You can also pick these wreaths up easily at Goodwill or garage sales.
Assemble Your Arrangement: Cut your flower picks up as needed to emphasize individual elements, arrange flowers, greenery, or plastic fruits as desired on the top of your wreath laid flat on a table or the floor. Arrange and rearrange until you are happy with the styling. Cover the entire wreath or just a corner according to your preferences. You can either buy the arrangement pieces or recycle them. Thrift stores and sales at craft stores are good sources.
Secure Your Arrangement:
Cut 5 - 7 lengths of the organza or other ribbon in a complimentary or neutral color. Be sure your lengths are long enough to tie either a knot or a pretty bow around your grapevine wreath. Tie your ribbons tightly at strategic points to hold the weight of your decorations, tie bows if desired or just knot firmly. Add a larger bow for decoration if you like.
Hang Your New Creation.
This wreath is inexpensive, can be changed with the seasons and can be refreshed as needed easily by pulling or cutting off ribbons.
By nhe from Denton, TX