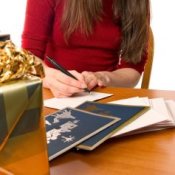 Every year it seems I have less time to spend doing all the traditional holiday things I feel I need to keep up with. In addition, the cost of postage seems to go up annually. For the past few years, I have contemplated this idea. This year, I finally went ahead and put it into practice.
I drafted my annual family Christmas newsletter as always, but instead of printing it out, (some years 2 pages long,) and draining my print cartridge dry by adding a photo of my son and dogs, I decided to make it a Christmas e-newsletter. I started it by explaining that I am changing the way I do things starting this year, and in the interest of reducing my carbon footprint, I am sending my Christmas greetings and photos via email.
In addition to saving time, money, stress, and the environment, I have freed up the money I would have spent on cards, pretty paper and postage, and donate it to the charity of my choice. What a win-win situation! As a bonus, when sending my letter via email, I can make it as long as I want and include as many photos as I wish at no extra cost.
Almost immediately after sending, I received a response from several friends who said they loved the idea, and planned to "steal" it themselves! For the few folks on my list whose email addresses I didn't have, or that don't have computers or email, I still sent them a card with a newsletter, but I can count the number on one hand compared to the practically 80 cards I have sent out some years.
Just make sure when you send those newsletters that you request the recipients who do have email addresses and would like to continue to hear from you, to please include it with their card to you this year, so they remain on your list for next year.
Honestly, it's the best idea I've had in a long time. It was really rewarding to pick from the many charities in my community whom I would send a check to this year. I ended up sending $50 to PAWS San Diego, which provides essential services to assist the low-income, elderly, chronically ill and disabled to keep their companion animals. (The unconditional love of an animal gives people a reason to live.)
I hope your readers decide it's an idea they'd like to adopt themselves this year. It's not too late. If you sit down right now and send that email, they'll have it before Christmas. That's more than you can say than if you sent a card.
Think of the numerous charitable organizations that will benefit from your common thrifty idea! I have started a list and throughout the year when I come across a charitable organization I would like to donate to, I will add the contact information to my list. By this time next year, I will have an entire list of worthwhile organizations to pick from. Maybe I'll split my donation in half or thirds and send to several!
By Donna N. from San Diego
Read More

Comments