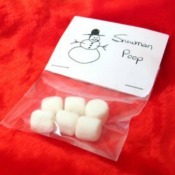 I need some clean Christmas "gag" gift ideas.

Rags from TN

Answers
By katluvsbears (Guest Post)
November 4, 2006
1

found this helpful
Best Answer
how about: grow your own furniture kit: acorn in a bag with note that says: plant and in 40 or so years cut down and make your own oak furniture. Belly button lint cleaner: a piece of pipe cleaner that is curved at end to look something like a toilet bowl brush.

November 20, 2006
0

found this helpful
Best Answer
We did this one year and it was hilarious. Everyone received a gift specially designed for them. For instance, one of the family was moving from California to Minnesota so we wrapped up a "can of smog." Another had an extreme political hatred of someone so we made a necklace of his picture on it for her to wear. You get the idea. It has to be personal yet something you can laugh about.
By Neednewidea (Guest Post)
December 7, 2006
0

found this helpful
Best Answer
Redneck gift idea:
Buy the largest pair of panties you can find and safety-pin this message on the front:
A pair of "draws' for Mrs. Claus.
By Kim (Guest Post)
December 11, 2007
1

found this helpful
Best Answer
An addition to the Car (Ford, Dodge,etc.) Repair Kit. My brother was in school, so I added mom & dads phone numbers on a tag (stated..if all else fails) in the bag with the duct tape & rubber bands.
He got a kick out of it.

December 18, 2007
0

found this helpful
Best Answer
My daughter and I did this totally off the wall gag one year and gave it to the person we thought would flip out the most. Go out about a week before Christmas and buy a food item from a fast food restaurant (we bought a hamburger from McDonalds). Wrap it up and put it under the tree.The reaction to that burger was hilarious. I will never forget it.
By Alison (Guest Post)
November 12, 2008
0

found this helpful
Best Answer
My family is just huge on gag gifts. Most of then just get passed along to everyone. The number one running gag gift in our family is this stupid glass head that me and my mom found at pier one. We just couldn't understand why anyone could ever possibly want one of those. So we bought it. It has showed up so many times at holidays!
I think the best one was at my sisters wedding, she really hates leopard print, so we tied a leopard print scarf on it and gave it to her. My mom has recently quit her job that she's had for over 20 years. So when she left she put the glass head up on a shelf with a note in it that says Laura was here.
I really wish they still made these glass head but we haven't been able to find them in a while. Another thing I did was last year for our family grab bag, I bought one of the new really ugly x-mas trees made out of bark. Once again who would ever want one of those.I didn't just stop there... I got a really ugly feathered bird with shiny beads on it, and made that the tree topper and then got a tree skirt... then i glued a bunch of glitter and little pom poms to it. It was hilarious. My sister in law ended up getting it, and I can't wait to see it put out this year for x-mas :)
Answer

this Question

I have a "short" friend and every year for Christmas and birthdays we give each other a "short" gag gift. However, I'm at a loss as what to give him this year. Can anyone give me ideas on a good gag gift I can give him that relates to being a short man? I gave him a catalog for his birthday for clothes for the short man.
Any ideas would be greatly appreciated!
Answers
By (Guest Post)
November 6, 2007
0

found this helpful
Best Answer
How about some shortening, or short bread cookies?

November 6, 2007
0

found this helpful
Best Answer
How about home made shortbread cookies, or shortcake, or a package of Scottish shortbread?
Or a can of shortening? Like he needs to be shortened more. . .
I'm so funny.

susan
Silver Feedback Medal for All Time! 472 Feedbacks
November 6, 2007
1

found this helpful
Best Answer
Are you sure he thinks these gag gifts are as much fun as you do? I know a few short men who have great senses of humor, but after a while that joke wears thin, and truth be told, they are as sensitive about their height as anyone else is about their own "shortcomings." No one likes their inadequacies continually pointed out to them. Maybe it's time to step back and reconsider. He may be short in stature, but sounds like a very big person with a huge sense of self.

November 12, 2007
0

found this helpful
Best Answer
Thanks to everyone that responded. Lots of great ideas. As someone said in one of the posts, eventually this will wear thin. I will have to come up with just plain ol' gag gifts. Once again, I appreciate everyone taking the time to respond to my question.
Thanks,
takintime
Answer

this Question

My newlywed son is dreaming of receiving an "owners manual" for his wife. I think that would be a great "gag" gift. I'm having trouble putting it together. Any ideas from you creative people?
By Edith Guthrey from Oakley, CA
Answers

Robyn Fed
Silver Post Medal for All Time! 398 Posts
December 22, 2009
0

found this helpful
Best Answer
This is such a good idea. Put some coupons for get out of an argument free. A couple of cards that say "I'm Sorry" and a big print page with their Anniversary Written on it with the nearest Florist address and telephone number. You might add a page where all her friends and wedding party put nice statements about what they like about him the most!
How creative of you to think of this. Love it! Robyn

December 25, 2009
0

found this helpful
Best Answer
My hubby has a plaque that says Rule#1 The Wife is Always Right Rule # 2 When in doubt, refer back to rule # 1.
Answer

this Question

Suntydt
Bronze Feedback Medal for All Time! 109 Feedbacks
My church is having a Christmas party and this year we are to bring gag gifts. You bring a gift, mark it male or female and then the gifts are handed out in a random fashion. I need some suggestions of either things to buy or things to make. Be creative, but keep it clean (it is a church party after all).
By Suntydt from Tazwell, TN
Answers

November 23, 2010
0

found this helpful
Best Answer
The "poop" gifts are cute, without being nasty. (You make a cute little header card, and staple it to a small plastic bag of the "poop".) For example: mini marshmallows for snowman poop, raisinettes for reindeer poop, red and green jelly beans for elf poop, etc.
I think www.organizedchristmas.com still has some of the "headers" you can print for the snowman poop and reindeer poop.

November 24, 2010
0

found this helpful
Best Answer
A Necessity Box: a battery, toilet paper roll, small samples of toothpaste, and soap etc. Maybe, the Daily Bread, a can of coke or a small sample packet of coffee, a band-aid, a wet-wipe packet, used items like a calling card (since there's not pay phones anymore (!), a chocolate candy bar (gotta have chocolate!!), a pencil or pen, sun screen, a sample of TUMS, or Tylenol. If you have kids, let them also throw in the things they feel are necessities to get through life. You will be amazed at what the little tikes will want to add to your box! Let your imagination run for the fun of it. Depending what you put into your box, you will create a lot of laughs!

November 24, 2010
0

found this helpful
Best Answer
I like the idea of giving a heart shaped cookie and a valentine. Or, a plate of crumbs from coolie, cake , pie, whatever , and a note saying 'sorry, I got hungry".

November 25, 2010
0

found this helpful
Best Answer
This is what I do when I need a gag gift. I get a pack of batteries, any size and put a small handmade Christmas card from construction paper that says. Toy not included. It has always been a hit!
Answer

this Question

I'm in need of some ideas to make my boss a gag gift. I'm frugal, but he is cheap, cheap, cheap. So I thought it would be fun to pick at him for Christmas :) He has a great sense of humor so any ideas will be great. Thanks!
By Crystal
Answer

this Question

I would like a silly gag gift idea for Christmas. Someone told me about a poem with a Baby Ruth candy bar. I also did one a year ago for my son's fiance. She told him she wanted a 3 carat diamond and laughed, so I wrapped three little baby carrots up in a small box and gave them to her for Christmas. It was a hit.
By Lindaspy from South Beloit, IL
Answers

December 14, 2010
0

found this helpful
Best Answer
One year I gave away a bunch of old coffee mugs, complete with a humorous history of their time in my household.
Answer

this Question
Does anyone have the Santa poop poem?
By Phyllis from Massena, NY
Answers

October 28, 2011
0

found this helpful
Phyllis there is a web-site with every kind of poop poems, its called pooppage: tetodd.tripod.com/index-pooppage.html
Have fun, it has even those for halloween and more.
Read More

Answers