gem
Bronze Post Medal for All Time! 163 Posts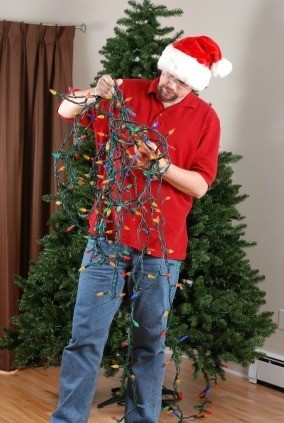 My husband and I stopped by an unusual shop last week on our venture to the next county thrift shops. This sweet lady had a Christmas tree upside down in one corner of her store and had decorations on it. She themes it. This theme was spring with birds, butterflies, different sprays of flowers, and just a beautiful assortment of things. We talked to her for quite a while and found out she redecorates the tree every few months to keep the idea fresh. Her next venture was still being hatched; she said she had several ideas one of which was patriotic.
The tree bottom was against the ceiling and I have no idea how she kept it in position, but it was a really intriguing way to display seasonal fun things. I thought I would pass it along as I was very interested in it and I hope this sparks some creativity for you as well.
Source: Terra Devine
By gem from VA
Read More

Comments

Onesummer
Bronze Post Medal for All Time! 219 Posts
Can someone give me advice on how to buy a Christmas tree, ornaments, lights? I have never owned a Christmas tree before, but now I have 2 grandkids ages 1 and 6 months and I would like to put up a tree this year for them. There are just so many types of trees and Christmas decorations I really don't know where to start. Any advice?
By Onesummer
Answers

October 24, 2012
0

found this helpful
First of all I am a firm believer in artificial trees, as I have got older I also am a firm believer in the ones that come with the lights already on them. Putting the lights on a tree is the hardest part, especially as you get older. Depending on how tall of tree you get it will be in sections that you have to put together. When I do that I plug the bottom section into an outlet so that I make sure to get the upper sections plugged into the lower section right, sometimes that can be tricky. A couple years ago I got a really nice looking five foot tall, pre-lit tree at Home Depot for about $40.00. It is in two sections. Anyway when I put it together I decided it really looked too short in front of my window, so I had a friend make a wooden box about 12" high and about 18" square for me to set the tree on. But I can have the tree sitting on the floor and I can reach to decorate the top part and then set in on the box to finish decorating the tree. My balance is no longer good enough to get on a step stool to reach things. Then when I get all done I wrap a couple layers of the polyester batting like for quilts around the box and trunk of the tree.
I don't use a tree skirt because they end up getting wrinkled when you set the gifts on it. I bought 1 1/2 yards of gold lame' fabric that I wrap around the trunk of the tee-----I like sparkle. For decorations there are all kinds of them. I have some that are cloth, homemade, a few from the WWII era, some collectables, I have maybe four Elvis motif ones, one that represents a 1959 Corvette, which I have wanted a real one for about 53 years. I also have a replica of a 1959 Cadillac. I just use a wide variety of ornaments and whatever else strikes my fancy. When it comes to buying decorations you can find anything and a lot of the ones that look like the shiny old fashioned glass ornaments that would shatter if you looked at them the wrong way, are now made out of non-breakable stuff. Hope this helps. At first thought $40.00 for an artificial tree sounds like a lot, but they come with the stand and last for several years. However, real trees cost about $40.00 and then you have to buy a tree stand and as long as you have them up, you have to crawl under them to keep them watered.

October 26, 2012
0

found this helpful
I'm at the end of buying Christmas stuff - want to be simple.
I have two trees - a 3 foot boxed tree with lights from Big Lots that goes on a buffet, and then a 3 foot one that you connect the rods lift the tree from it's box where it's stored flat. This one also has lights. These generally are decorated with inexpensive candy canes and gift cards.
In the past, I started a Christmas ornament "collection" aimed for each grandchild - a "first" Christmas, then assorted metal ornaments with the child's name and the year. Each of the kids got their ornaments when they establish their own traditions and therefore had some ornaments for their own tree.
I also had ornaments to represent family members - i.e., a car with Santa was for my father, a poinsettia was for my mother, snowmen was for my youngest. You get the idea.
I wish you luck - the previous poster had good ideas, too.

October 26, 2012
0

found this helpful
I bought a Led tree that had a string of regular lights also, It is about 3 ft tall, and super easy to put up. It is so bright and the lights flicker so nicely. It doesn't take a lot of ornaments, I use the small scale ones.
I Love it and It is not expensive. I got mine at the after xmas sale or a few days before at clearance.

October 26, 2012
0

found this helpful
Go to stores that sell Christmas trees-artificial ones! I recommend getting one with no lights on it. The trees that come with lights never have enough lights on them. The rule is 100 string of lights for every foot. So if your tree is 6 feet tall you need at least 600 lights on it. There is nothing uglier than a tree with not enough lights on it! You need to decide if you want white lights or colored lights. I have 2 trees and I put white lights on one, this one has all my snowmen on it. The other tree has colored lights on it with lots of different ornaments on it. When my kids were little I had nothing on my tree that could break. I taught them to look but not touch, but sometimes kids forget so I had nothing that could break and hurt them.
msjodiwms
Bronze Feedback Medal for All Time! 182 Feedbacks
December 19, 2016
0

found this helpful
Ornaments are so easy to make, you can purchase some clear ornaments at any size and then fill them with memories of your family members or whimsical items like artificial feathers ,ribbons, buttons, personalized items such as a child's baby ring, the hospital bracelets that were on your children's list at their birth ,wedding memorabilia, etc. Tie a pretty ribbon on the ornament and then hang it on your tree or give it as a gift.
I'm very sentimental so therefore every Christmas I put my children's infant spoon tied with a pretty ribbon on my Christmas tree. Decorating a tree is it can be a very personal Adventure, I always go out in my yard and pick Magnolia leaves or pine boughs and I sometimes paint them gold and stick them in my Christmas tree. Enjoy the season and the adventure of having a Christmas tree
Answer

this Question
Tips for putting up, taking down and storing tree lights. Post your ideas.

Answers

December 19, 2004
0

found this helpful
Instead of fighting with strands of Christmas lights to put on your tree, try taking the ones that you buy to put on your outside bushes that are already in one bundle and just throw them over the top of the tree and your done with your lights.No more having to wrap around the tree.
By Debbie Lovett
By CHRISTINE LAUDERBACK (Guest Post)
December 19, 2004
0

found this helpful
I USE AN EMPTY PRINGLES CAN TO WRAP MY LIGHTS.AND THOSE LOOSE BULBS & FUSES GO INSIDE .NO MORE LOST BULBS OR TANGLED LIGHTS.
By Jan (Guest Post)
December 28, 2004
0

found this helpful
This sounds kinda messy....

January 18, 2005
0

found this helpful
A tip I saw on a craft show was to take the cardboard paper tube and cut a slit in each end (not too long, about an inch). Slide the outlet end into the cut and then start wrapping the lights around the outside of the tube - when you get to the end place the end of the lights into the other slit. It works GREAT! The lights can be stored in one of the new plastic bins they have for wrapping paper and can easily be tested next year.
Answer

this Question