By Lori (Guest Post)
December 8, 2007
1

found this helpful
Best Answer
Here is a technique I use. It's beautiful and stays on the tree well.Use Ivory Snow flakes.Slowly add water and beat with a mixer until thick. You may have to add more flakes or water until you get desired consistency. Use a stiff, dry paintbrush and dab onto branches. Dry.
My big complaint I have is the smell. The tree and house will smell like soap. Maybe a couple of drops of evergreen essential oil will solve this. Haven't tried that yet.

November 14, 2016
0

found this helpful
I can't find Ivory snow anymore the stores discontinued selling it everything is all liquid,making snow for the Christmas tree was a tradition my father-inlaw started and last year was the first year I couldn't make the snow for my Christmas tree :-(

November 27, 2013
1

found this helpful
Best Answer
I actually just tried something on a whim. I have a ton of Elmer's glue from my kids and White paint that they use (same as the ones from the school). I mixed them together (more paint than Elmer's) and applied with a paintbrush.
It looks great and I have it all on hand. Cost=$0 I just dried it somewhat with a blow dryer just to see how it will look. Fabulous!!!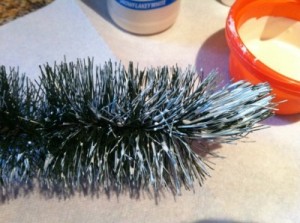 December 2, 2013
2

found this helpful
Best Answer
I just flocked my Christmas tree, something I do every year. But this year I did it different. I use 3 Elmers glue, large shaving cream, 2 tb corn starch. Mixed with mixer, spread on branches with hand. So easy and look wonderful. Best of all the house don't smell like soap. Have fun flocking. P.S. It might take several batches. still cheaper than Ivory soap and no mess.

Julie
Bronze Feedback Medal for All Time! 149 Feedbacks
December 9, 2007
0

found this helpful
a while back i needed to know ways of making my own fake snow paste inorder to paint on my windows I decorate and paint for craft shows.I got many suggestions and they worked well.But yesterday my sister made grapevine wreaths for the craft show and she had heard of this method to make it look like thick snow.And it looked so real.I will be using her method from now on. And you dab it on with paint brush also and let dry.
She did this.
Foam shaving cream that was scented mixed with elmers glue (not watered down) she beat it until stiff peaked applied with paint brush let air dry. It really looked good. I guess if you use unscented shaving cream you could add any type flavoring for scent like vanilla etc. She used a bit more shaving cream than glue not equal parts.
By terri (Guest Post)
December 10, 2007
0

found this helpful
My mother used to use Ivory Snow flakes for tree flocking (on a real tree) and it looked terrific. Does anyone know if this will work well on windows? I tried the spray stuff last year and the chemical smell was so bad I couldn't stand it.
By wendy (Guest Post)
December 10, 2007
0

found this helpful
When I was a kid my mother would mix hot water with Ivory Snow Flakes, beat with mixer and quickly put on tree while warm. However over the years their formula has changes so much I don't use it.. We did not make snow for years and the kids are begging me to make snow for the tree again. This year I took Ivory snow bar soap graded it added hot water beat with a mixer to the consistency you like then rub on branches and trunk of tree with your hands.
Looks real! The trick is to get it on the tree while it is still hot. I wanted to use the regular Ivory bar soap, when I got home and opened up the soap I had aloe Ivory, so I tries it. It seems to have done the job. Good Luck and enjoy.

November 27, 2013
0

found this helpful
I used White paint (the same as the kids use in school) and Elmers. Mixed them together. (more paint than elmers) applied with a paintbrush. I used a blow dryer to see how it would look. Fabulous!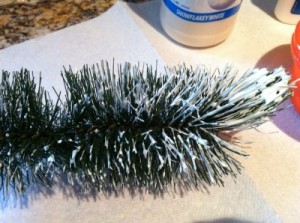 December 2, 2013
0

found this helpful
You use Ivory Snow detergent that comes in the box. I use about 8 boxes maybe 9 on a 9 to 10 ft. tree. I mix 1 box at a time. Pour 1 box in large bowl, add water, not too much, just enough to where you can scoop some out with your hand.
Hold one branch of the tree and spread on with your hand. It's a lot of work but makes a pretty tree. I have done this for about 8 years and love it. The only thing is that it leaves a soapy smell. I have been looking for something else. Hope this helps

December 16, 2019
0

found this helpful
I have found trees turn yellow after a while if you mix in half a bottle of cheap acrylic paint with 1 can of shave foam and 2 large bottles of school glue and mix with mixer it makes white fluff beautiful fluff don't put it on a cake, just joking. It has been 3 yrs and is still very white. While it was wet I used some large elephant snow and white sparkle glitter your choice but turned our great, the paint really makes it stay white. Have fun