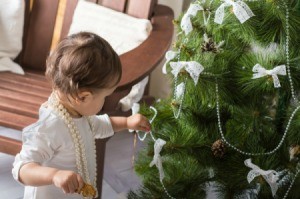 If you have small children who won't leave your Christmas tree alone, the best thing you can do is give them a tree of their own, with their own unbreakable ornaments. It can be as small as a 6 inch tabletop tree or as large as a full-size, whatever you have room for.
Tell them that is their tree to do as they please with, but they must not touch the family tree without permission. Your tree stays pretty, breakable ornaments stay safer, the kids can decorate to their heart's content, less stress and arguments; everyone is happy!
I started this with my kids over 20 years ago, when I had 2 small children who were fascinated with the tree and wanted to keep moving the ornaments. I got them a 3 foot tree that I set up in the den. I wrapped lights around it (later replacing it with a pre-lit tree). I went through our ornaments and chose some that were unbreakable, then added to them with a trip to the store.
I explained to them that this was their very own tree, they could decorate it any way and as many times as they wanted to. They were so proud of themselves and the beautiful job they did on their tree. They must have decorated it 20 times the first day they had it, then several times a day after that. They added more decorations we made at home.
When they squabbled about not liking the way the other had done something, we made a deal that one day the oldest got to decorate and the next day was her younger brother's turn. That made them both happy. They left the family tree alone because they liked their tree better!
When it was time to take the trees down, we had a special bucket that we packed their ornaments in for the next year. We've used this method with all 4 kids, although as our family grew, we had to use a smaller tree that sat on a table. Now my daughter has continued the tradition with her 3 year old twins, with a small tree I purchased for them at an after-Christmas sale the year they were born.
Source: My idea, born of desperation because I was tired of fighting with my toddler over the tree.
By Judy = Oklahoma from OK
Comments
Read More

Comments