EllenB
Gold Post Medal for All Time! 858 Posts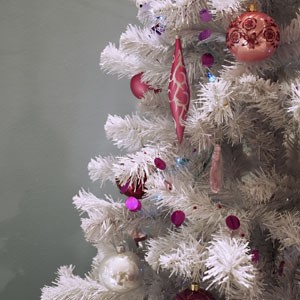 I know people who struggle with cutting down live trees for Christmas, because I'm one of them. I can't stand the thought of cutting down a gorgeous tree just to uphold a holiday tradition. In the past I've attempted to avoid this self-imposed "tree guilt" by decorating artificial trees, displaying potted "living" trees or by decorating the trees in my front yard.
Lately, I've been going Christmas "tree-less" altogether. So when people ask me which is a more environmentally friendly option, cutting down a real tree or buying an artificial one, I have only one answer: A real tree, of course!
Real Trees Are Renewable
As any environmentalist (and logger) will tell you, trees are a renewable resource. That means that unlike petroleum, which is created by natural processes that takes far too long to be considered useful, trees are naturally renewable (or can be renewed artificially) in a time framework that is useful to people. Most live Christmas trees are harvested from tree farms that are in the business of growing and producing trees like a farmer produces corn. For every one harvested, up to three more are planted each year.
Most artificial trees are manufactured overseas (usually China) and made from petroleum-based plastic products. North American forests cover almost the same area of land as they did 100 years ago, but as you may have heard, some experts say we're getting a bit low on oil.
Real Trees Support Life
According to The National Christmas Tree Association's website, every acre of Christmas trees produces enough oxygen for 18 people every day. In the United States alone, there are approximately 500,000 acres of Christmas Trees-that's enough trees to provide 9 million people with fresh oxygen every day. Tree farms also reduce soil erosion, filter run off and provide food and shelter for wildlife, insects and plants. Not only are they aesthetically pleasing to look at, but the trees are often grown on soil that would not otherwise be suitable for growing crops.
Manufacturing artificial Christmas trees supports our dependence on foreign oil, and produces toxic metals and plastics like lead and PVC. In some cases, it also encourages low wages for disadvantaged workers. In the past, the importation of artificial trees with wooden trunks was also responsible for transporting invasive species of insects to North America from China.
Real Trees Reduce Carbon
Trees give off life-sustaining oxygen, but they also absorb carbon dioxide and other harmful gases while they grow. That makes growing trees an important part of the fight against global warming. This helps to offset the CO2 released into the environment when we burn fossil fuels such as coal, oil, and natural gas. Unfortunately, trees can only do so much. The best way to reduce the CO2 released when we burn fossil fuels like oil, coal and natural gas, is to reduce our consumption.
Real Trees Can Be Recycled
Most communities offer special curbside pickup or drop off sites for Christmas trees after the holidays. Trees are chipped into biodegradable mulch, which can be used for playgrounds, gardens, hiking trails, fuels, and even pharmaceuticals. To find out how you can recycle you live Christmas tree after the holidays visit the National Christmas Tree Association at
http://www.christmastree.org/recycle_program.cfm
Comments
Read More

Comments