I know most photos are some sort of beautiful scenery - these photos are some of the most beautiful scenes in the world.
My family is everything! It is very important for us to spend time together. We love Christmas even if the months of November and December make us a little nervous.
In some of our past Christmas photos, someone has always had a neck, knee, ankle brace, or arm cast, and then there was the year when I had a tendon injury and had to wear a black boot. One year, I had on a neck brace, and the next year I had the external fixator for my wrist after I had fell 3 feet and crushed and splintered both bones in the wrist of my right hand.
This Christmas picture was great because we were all in good health. My sister has been cancer free for 12 years and she is doing great. We have had scares with both my sister and my brother. Finding out my sister had cancer was one of the hardest days of my life. She had a three month old baby. I had just quit my job at Pennington two weeks before she told me. They had a business they ran out of their home, so I learned it and took over most of it for her. I know that God had his hand in that. We battled the cancer for 2 years but we beat it. Sometimes I felt like breaking down, but I knew that I had to be her strength and I prayed each day for God to let me bear as much of her burden as possible and be positive and strong for her. I even tried to bargain with God telling him to take me and not her. It was the longest two years of my life and I think God carried me though so much of it.
Several years after that, my brother was in Hong Kong on business when the bird flu broke out. He had the symptoms and was hospitalized. He was quarantined with 19 other people. He said he made his peace with God and thought it was the end. His father-in-law checked into buying tickets to go over there so that Brian would not die alone. I felt like I was dying inside. I couldn't move. I sat with the phone in my hand. I prayed and tried some of that bargaining with God again by telling him to take me not my brother. He had not been married long and had just finished getting his engineering degree, and I wanted him to have some time to live and be happy. By law, they could not keep him if his blood work did not show the bird flu, and when it was checked it was inconclusive. They checked it several times and it did not show that he had the bird flu, so they had to release him. He called his contact in Hong Kong who picked him up immediately and took him to the airport.
We have had other smaller scares, and it teaches you to put God in the drivers seat and to never take life for granted. I hope you see why I think that this photo is so beautiful and why my family is so important to me. You should always tell your family that you love them and how important they are to you. You never know what tomorrow will bring.
The second photo is of my nephew, me, my brother, and my sister. My nephew is standing beside me in the white shirt. He is a great kid! The last picture I posted includes my Mom and Dad and all three nephews. The Lord blessed my sister with a sweet wonderful son and my brother with 2 fantastic little boys that he adores. I always knew that he would be a great Dad, and I am so glad God gave him that opportunity.
By Melissa
Do you have a frugal story to share with the ThriftyFun community? Submit your essay here: http://www.thriftyfun.com/post_myfrugallife.ldml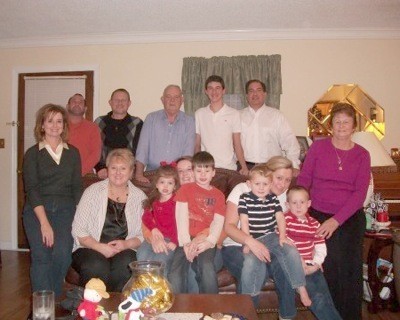 Read More Comments