Joan
Bronze Feedback Medal for All Time! 186 Feedbacks
November 17, 2009
0

found this helpful
The ones I have seen in stores are done in either silver or white. I have also seen one done up in black. However, I so far this year the only store that I have been in is WalMart and they don't have stuff like that. I think purple would even work.

November 18, 2009
0

found this helpful
HI! You could always go 'psychedelic' with lots of brightly colored 'boas' ( I can never think of the right word for those boa kind of strands that you wrap around the tree(: ), glittery ornaments--the really inexpensive glass or plastic hanging ones sprayed with adhesive and rolled in beads would be nice, and a fun project, felt flowers cut out from felt and possibly cut in different sizes, layered and hot glued together with a glitter center, your own homemade beaded chains made with the inexpensive, large plastic beads, some of them glittered--kind of a 'beads and flowers' motif--can you dig it,man? (; Just some thoughts--good luck and Merry Christmas, E

November 18, 2009
0

found this helpful
I think that the pink Christmas tree would be wonderfully decorated with a pretty silver/ lilac colored theme. perhaps some silver Christmas balls and some pretty lilac colored bows. that would look amazing. You could even use silver and white, or white and different shades of pink other than the color of your tree.
I found some amazing ideas.I'il post a pic as well. The one I posted was out of a magazine. I have a few more but I was only allowed to post one. If you want the others feel free to email me at dominantkittie0 AT yahoo.com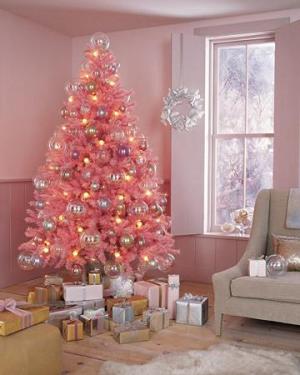 November 18, 2009
0

found this helpful
Love the picture sent in, but when I first read pink I only thought of a Rock 'n Roll Christmas tree. :)

November 20, 2009
0

found this helpful
Another natural counterpart for pink is red (because pink used to be red, after all). This would make it easy to tie in the Christmas theme. I'd still stick with silver accents to give your tree sparkle.
(Gold is too warm for a "cool" pink tree...) If you want something trendy, you could also try lime green. That would pop against your pink tree - pretty hip. Have fun!

(Guest)
Gold Post Medal for All Time! 846 Posts
November 20, 2009
0

found this helpful
We had a pink flocked live tree one year when I was a little girl and we decorated with mainly red and a bit of silver. The red and pink just looked so cool together!

Dena Roberts
Bronze Feedback Medal for All Time! 102 Feedbacks
November 20, 2009
0

found this helpful
My aunt does hers all in white with lots of feathery ropes and beads.vooks like a fairy tree, so beautiful.

November 24, 2009
0

found this helpful
I have had a pink tree for the past few years. I use all different kinds of silver ornaments and some crystal ornaments. I always get rave reviews on it-it looks really classy.
I would sugguest using all one color ornaments or it will look too busy.
Kathy in CT

November 27, 2009
0

found this helpful
Burgundy, would be nice. Dark blue with some silver on it, black balls, but this would be eccentric.

December 3, 2009
0

found this helpful
I have a pink tree as well and I decorate mine in green. The pink and green together look so pretty.Reminds me of Christmases Past.

Lilac
Silver Feedback Medal for All Time! 450 Feedbacks
December 4, 2010
0

found this helpful
I would put anything I wanted on it. The more the merrier. The more colors the brighter and happier it will look.