By Karen L (Guest Post)
November 11, 2008
0

found this helpful
Get some rope from a farm supply store and make wreaths out of them and decorate. You can make small ones for ornaments. You can also make heart shapes out of the rope. You could make garland with it too. Red bandana material tied on the branches would be cute too. Look in the children dept of Walmart or the dollar store for little horses to make ornaments out of. There are lots of possibilities!
By Lisa (Guest Post)
November 11, 2008
0

found this helpful
The year before last, I did a "rustic" tree. It wasn't western, but I think you could use a lot of the same ideas and it was really cheap! I cut grapevine from outside and wrapped it around my tree along with wide strips of red burlap(which came from Wal-mart at $1.00/yard) I hung cheap red balls and cut real pine boughs to stick in my fake tree.
Pine cones, artificial feathers, red ting ting, grapevine balls and birds nest from the craft section completed the look. It was GORGEOUS! I got so many complements on it! I think you could add old horse shoes and tie your Christmas balls with bandanas and twine, and it would be really cute!

November 11, 2008
0

found this helpful
Here's a cute idea for a western themed Christmas!
craft.dow.com/.../314.htm
Hugs, Paula

November 11, 2008
0

found this helpful
Of course the tree topper would be a cowboy hat. Nobody would be left guessing with that. A stick horse in the branches would be cute. Cactus ornaments, cow skulls, like that.
By Marilyn (Guest Post)
November 12, 2008
0

found this helpful
I do not know where you live but if you live near a Ben Franklin store, they have lots of Western Themed Ornaments and I even saw some at Hobby Lobby.
I made a tree for my Dad and I used Red Bandanas as the
garland - cut and tied it into the garland. It turned out
great.
I also put the tree in an old Cowboy Boot of my Fathers which personalized it.
Hope your tree turns out great!
By Amanda in VA (Guest Post)
November 12, 2008
0

found this helpful
You can buy little sheriff stars in bulk at places like Oriental Trading company. They're shiny and I think they would look very festive on your tree. They also have many colors of bandannas.

November 12, 2008
0

found this helpful
A gal up in Detroit, OR above Salem, came up with the coolest idea. Her restaurant is western themed, and she made her own barbed wire.
She took old two stranded electrical cord, spray painted it rusty color. Every 12" she hot glued two pieces of wire ties from trash cans or bread wrappers.
The photo is from her restaurant, and you can see some of her work close up. Instead of holiday stars, you can make them Tin Sheriff Stars, making the wire the garland, and miniature hats with candy inside.
How much fun would it be for all of us if when you were done, you shared how it looked!?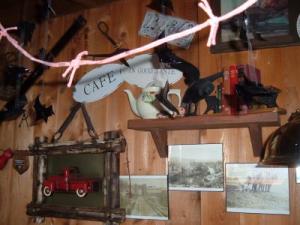 By kim (Guest Post)
November 12, 2008
0

found this helpful
I've had a cowboy theme tree for a couple of years now. I use a lariat rope for "garland". I quartered red bandannas and wrapped plastic Christmas balls and have started quite a collection of western ornaments.
I use an old hat or I have a horseshoe that my husband welded a small piece of pipe so I can use it on top. Good luck, I love some of the ideas I've seen on here!