EllenB
Gold Post Medal for All Time! 858 Posts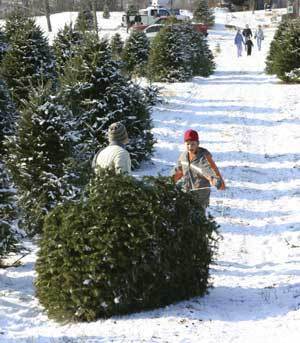 For many people, Christmas trees are the focal point of decorating a home for the holidays. The very act of selecting and buying the tree is a special part of the season and another great opportunity to make lasting holiday memories. Before heading out to buy your tree this holiday season, follow these practical tips for selecting and buying the perfect Christmas tree.
Tools & Measurements: Don't Leave Home Without Them
Before you leave the house, know where the tree is going to be positioned and how much room you need. Write down the height and width you need on a piece of paper and take it with you. Don't over buy. A tree can be the right height and still be too wide. Wear a pair of gloves that you don't mind getting full of sap and take along a small hand saw encase you need to do some trimming before you get the tree home.
To make the trip extra special for the whole family, give everyone something important to do. Elect someone to be in charge of bringing along a Christmas CD for the car stereo and put someone else in charge of the hot chocolate. Above all, don't forget the camera.
Shop Early or Shop Online
Because this is around the time many people traditionally decorate for the holidays, the freshest cut trees are usually ready for sale immediately before and after Thanksgiving. As tree supplies dwindle, some retail stores will replenish their stock with fresh shipments. Others will not. Every year is different, so if you have a preferred retailer, ask them when you can expect their freshest trees to be delivered.
For people unable to get out and buy Christmas trees the traditional way, you can now shop for your tree online and have it delivered directly to your front door. This is a wonderful gift idea for someone physically unable to get out and buy a tree and it also saves you the time and headache of running around in search of a specific tree type. You won't have to worry about braving the elements, but expect to give up a little more of your Christmas cash for the convenience.
If You Were A Christmas Tree, Which Type Would You Be?
All pine trees and evergreen trees each possess their own unique physical qualities and characteristics. For example Noble fir, Fraser fir, Balsam fir, Douglass fir and Scotch Pines typically retain their needles the longest. The light scent and feathery dark green foliage of the Leyland Cypress is excellent for people with allergies, while the Balsam fir is highly aromatic. Do some research before you leave home so you know what type of tree you're looking for. According to National Christmas Tree Association polls, here are the favorite top 10 Christmas Tree species sold in North America. Remember that only some of these will be available in your area.
#1. Fraser Fir
#2. Douglass Fir
#3. Balsam Fir
#4. Colorado Blue Spruce
#5. Scotch Pine
#6. Eastern Red Cedar
#7. White Spruce
#8. Eastern White Pine
#9.
White (Concolor) Fir
#10.
Virginia Pine
Shopping Tree Lots
The most important thing to keep in mind when shopping tree lots is to test for freshness before you buy. Take the tree out into the light and look for any outward signs of dryness like a musty smell, brown needles or excessive needle loss. The needles on a fresh pine tree will be green and pliable when you bend them. The needles on a fir tree should be green and snap crisply when bent. Give the tree a good shake. If more than a few needles fall off, select another tree. If you can't find one, go to another lot.
Shopping Tree Farms
A trip to a tree farm is a trip to the country, so be prepared. Expect to be walking over uneven snowy ground and the possibility of frosty weather. Most tree farms will provide you with a saw and are happy to "blow" your tree of free needles and wrap it in a net before helping you strap it onto the roof of your car. Still, it's best to call ahead and ask about services and pricing (and if you can bring the dog) so you avoid encountering any unexpected surprises.
Buying A "Living Tree"
Finally, if you're in a growing zone where the soil doesn't freeze, consider buying a "living" Christmas tree. These are trees that come set in a container or pot (roots wrapped) and can be decorated and kept indoors briefly over the holidays (usually no longer than 10 days) and then planted outdoors. What a wonderful family legacy to look out on a yard of full living Christmas pasts!