Kids will enjoy making these cute craft stick ornaments that are so quick and easy to make. They are great to tie on packages too.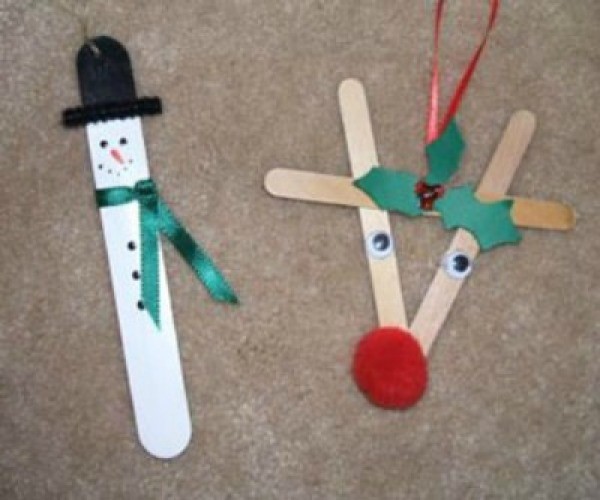 Approximate Time: About 30 minutes
Supplies:
jumbo craft stick
white acrylic paint
black acrylic paint
orange acrylic paint
paint brush
black chenille stem
scrap of ribbon or fabric
craft glue
gold thread or thin ribbon
3 craft sticks
moveable eyes
red pom pom
green craft foam or construction paper
small red beads
scissors
scrap of ribbon or fabric
Instructions:
For snowman: paint top 1 inch portion of jumbo craft stick black for hat and let dry. Paint remainder of stick white and let dry. Dip the handle end of a small paint brush into black paint and dot on the eyes, mouth, and buttons down his "belly." Using a small paint brush and orange paint, paint on a carrot-shaped nose. Cut a piece of black chenille stem about 1 1/4 inches long and glue on to form the hat brim. Tie a piece of ribbon or fabric just below face to form a scarf. Glue in place. Make a small hole in top of "hat" and thread a piece of gold thread or piece of thin ribbon through the hole to form a hanger.
For reindeer: glue 2 craft sticks into a V shape. Glue the other craft stick horizontally over the top of the "V" about 1 inch down from the top of the "V." Glue a red pom pom at the point of the "V" to form the nose. Glue two wiggly eyes just below the horizontal stick. Cut holly leaves from green fun foam or construction paper and glue to center of horizontal stick. Glue red beads in the middle of the leaves to look like holly berries. Glue a scrap of ribbon or fabric to the back of the horizontal stick to form a hanger.
By Momof1 from Wilkesboro, NC